Full text
PDF
Full text
DIAGNOSIS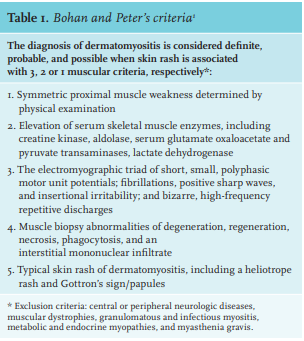 Based on his symptoms we suspected dermatomyositis. Diagnosis was based on skin and muscle signs and laboratory results, using Bohan and Peter's criteria (table 1).1 Muscle weakness is the most common feature, and distribution is characteristically symmetric and proximal. The periorbital erythema with oedema is called a heliotrope rash and it is one of the hallmark features of dermatomyositis. Another hallmark feature, absent in our patient, is Gottron's sign, which refers to erythematous lesions over the hand joints. Periungual abnormalities are characteristic, although not specific, for dermatomyositis as well. Organ involvement is possible, although in our patient, a general work-up (e.g., kidney function test, urine sediment, chest X-ray) showed no signs of organ involvement.
First choice treatment for dermatomyositis is prednisone, however despite this, swallowing difficulties persisted in our patient. High-dose methylprednisolone was given and a duodenal tube for tube feeding was placed. During endoscopy, a mucosal swelling of the distal oesophagus was seen and biopsy revealed an adenocarcinoma.
The diagnosis was specified to cancer-associateddermatomyositis. Additionally, laboratory testing revealed a positive anti-TIF1-γ-antibody, which has a strong correlation with cancer-associated dermatomyositis.2 In dermatomyositis, the prevalence of malignant disease is 14.8% and the relative risk for an underlying malignancy is 4.66.3 These numbers justify further diagnostics to screen for a malignancy in every patient diagnosed with dermatomyositis regardless of the presence or absence of specific autoantibodies associated with cancer.
Despite therapy, our patient rapidly deteriorated. He chose to stop treatment and passed away two days later.


REFERENCES
Bohan A, Peter JB. Polymyositis and dermatomyositis. N Engl J Med. 1975;292:344-7.
Betteridge Z, McHugh N. Myositis-specific autoantibodies: an important tool to support diagnosis of myositis. J Inter Med. 2016;280:8-23.
Qiang JK, Kim WB, Baibergenova A, Alhusayen R. Risk of Malignancy in Dermatomyositis and Polymyositis. J Cutan Med Surg. 2017;21:131-6.