Full text
PDF
Full text
CASE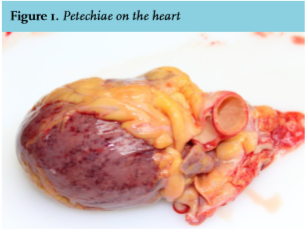 A 41-year-old woman with a history of hypertension and endometriosis presented at the emergency department (ED) with hyperglycaemia. The day of her presentation she had been seen in the preoperative department, being examined in relation to a planned operation. There were no abnormalities.
We saw a moderately ill woman in the ED with hypertension, tachycardia and a blood glucose of 24.3 mmol/l. She had a short history of vomiting and diarrhea. About 45 minutes later she was in a state of confusion and fear, with progressive tachycardia, tachypnea and hypertension, and exhibiting a pale, marbled skin with barely palpable peripheral pulsations. Strikingly, there were now petechiae. Laboratory analysis showed signs of hemolysis, leucocytosis, deep thrombocytopenia and acute kidney failure.
The patient rapidly deteriorated with progressive circulatory and respiratory failure. Treatment was started with 1200 mg Augmentin/300 mg Gentamicin, fluid challenges and hydrocortisone 100 mg. Catheterisation showed dark, rusty coloured urine. Despite treatment a CPR setting developed. Cardiac ultrasound showed inferior wall movement abnormalities suggesting myocardial infarction, blood results showed high cardiac enzymes. Despite resuscitation and maximal supportive therapy the patient died.
Obduction showed extensive bleeding foci and thrombi in multiple blood vessels including the myocardium and the kidneys (figure 1).


WHAT IS YOUR DIAGNOSIS?

See page 305 for the answer to this photo quiz.