Full text
PDF
Full text
DIAGNOSIS

Transthoracic echocardiogram demonstrated severe regurgitation of a pulmonary prosthesis and a ventricular septal defect. Thoracic-vascular CT scan revealed massive enlargement of the pulmonary artery causing extrinsic compression of the left main coronary artery (figures 2A and B). Coronary angiogram showed critical left main coronary artery (LMCA) stenosis caused by extrinsic compression by a dilated pulmonary artery, with a slow and competitive flow through the left anterior descending coronary artery. The right coronary artery was dominant and provided collateral circulation to the left anterior descending artery.
Extrinsic coronary artery compression by a massively enlarged pulmonary artery is a rare cause of stable angina pectoris. The causes underlying pulmonary artery enlargement include primary pulmonary hypertension,1 atrial septal defect,2 left anomalous coronary artery origin3 and in this case, chronic regurgitation of a dysfunctional pulmonary prosthesis. To our best understanding, this is the first case showing LMCA extrinsic compression due to massive pulmonary enlargement secondary in the context of pulmonary prosthesis dysfunction. The patient was admitted to a surgical ward and underwent pulmonary valve replacement and pulmonary artery plicature with technical difficulties due to abundant mediastinal adhesions and a prolonged extracorporeal circulation time (361 min); during the postoperative period, he presented low cardiac output syndrome and refractory cardiogenic shock, and died 72 hours later.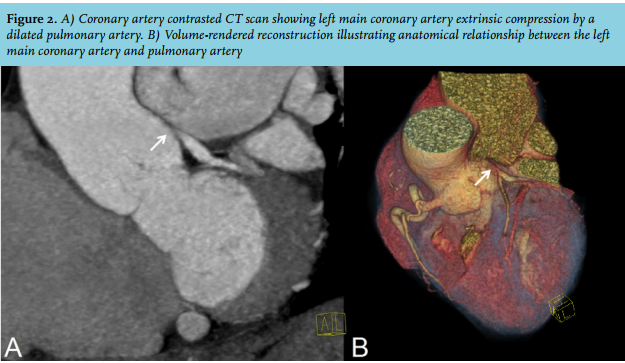 REFERENCES
Corday E, Gold H, Kaplan L. Coronary artery compression; an explanation for the cause of coronary insufficiency in pulmonary hypertension. Trans Am Coll Cardiol. 1957;7:93-103.
Pac FA, Cagdas DN, Ulas M, Ozatik MA, Pac M. Left main coronary artery and aortic root compression associated with atrial septal defect and pulmonary hypertension. Int J Cardiol. 2007;118:e41-3.
Taylor AJ, Rogan KM, Virmani R. Sudden cardiac death associated with isolated congenital coronary artery anomalies. J Am Coll Cardiol. 1992;20:640-7.