Full text
PDF
Full text
DIAGNOSIS

Macroscopic examination revealed a polycystic tumour containing haemorrhagic tissue. Microscopically, the tumour was composed of dilated vessels (partial venous partial arterial) in the bone and adjacent soft tissues. The postoperative histological diagnosis was arteriovenous haemangiomas of the rib (figure 3).
The postoperative course was uneventful, and the patient was discharged on the 15th postoperative day. There has been no evidence of recurrence of rib tumour or pleural effusion after one year of follow-up.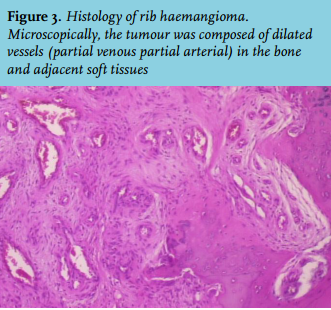 DISCUSSION

Haemangioma of the rib is a rare benign vascular tumour so it is often misdiagnosed.1,2 About half of costal tumours are malignant (metastatic or primary malignant tumours), and it is difficult to distinguish an osteolytic haemangioma of the rib from a malignant tumour2,3 especially if it presents with a pathological fracture of the rib.
So far, in the literature only a few cases of rib haemangiomas have been described.2-5 Rib haemangiomas are usually asymptomatic and tumours are generally incidental findings on radiological study5 but occasionally they may present with pain and swelling.2-4 Pleural effusions are rarely associated with rib haemangioma, and only one report of haemangioma of the rib with accumulation of pleural fluid has been published to date.4 The tumour in our case showed several malignant features in terms of symptomatology and diagnostics with pain, swelling and radiological findings of extensive pleural effusion and pathological fractures of the ribs, despite its benign nature.


CONCLUSION

Haemangioma of the rib is an uncommon condition that should be considered a rare cause of pleural effusion and osteolytic lesions or pathological fracture of the rib.


REFERENCES
Verbeke SL, Bovée JV. Primary vascular tumors of bone: a spectrum of entities? Int J Clin Exp Pathol. 2011;4:541-51.
Haro A, Nagashima A. A rare case report of rib hemangioma mimicking a malignant bone tumor or metastatic tumor. Int J Surg Case Rep. 2015;16:141-5.
Okumura T, Asamura H, Kondo H, Matsuno Y, Tsuchiya R. Hemangioma of the rib: a case report. Jpn J Clin Oncol. 2000;30:354-7.
Hashimoto N, Takenaka S, Akimoto Y, et al. Capillary hemangioma in a rib presenting as large pleural effusion. Ann Thorac Surg. 2011;91:e59-e61.
Abrao FC, Tamagno M, Canzian M, et al. Hemangioma of the rib. Ann Thorac Surg. 2011;91:595-6.