Full text
PDF
Full text
DIAGNOSIS

The histological diagnosis was relapsing polychondritis. The same diagnosis was made after sample revision in a second academic teaching hospital. The patient initially responded well to a tapered two-week dose of 20 mg prednisone but his symptoms reappeared after two months. In the following two years, the patient was symptom-free using immunosuppressive medication (first prednisone and methotrexate and later prednisone, dapsone and mycophenolate) but he gradually developed dyspnoea and general weakness, considered to be side effects of the medication. While lowering the immunosuppressive dose, his nasal symptoms fully reappeared. Eventually a revision rhinoplasty was performed in which the remaining lower lateral cartilage was resected and replaced with unaffected conchal ear cartilage (figure 3). Histology revealed a resting phase of relapsing polychondritis. One year following surgery, the patient remains free of symptoms without immunosuppression and with a normal form and function of the nose.
Relapsing polychondritis is classified as a rare immune-mediated disease of unknown aetiology and in some cases is associated with connective tissue, autoimmune, rheumatological and malignant disorders.1 The wide variety of clinical manifestations and lack of disease-specific laboratory findings make relapsing polychondritis difficult to diagnose and frequently causes a diagnostic and therapeutic delay. At the moment, reviews and case reports help us to get a better understanding of disease presentations and response to a variety of treatment modalities.2-4 We hope that this unusual presentation and surgical management of a 'relapsing monochondritis' forms an addition to our understanding of the disease.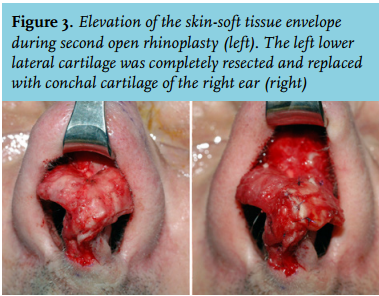 REFERENCES


Lahmer T, Treiber M, von Werder A, Foerger F, Knopf A, Heemann U, Thuermel K. Relapsing polychondritis: an autoimmune disease with many faces. Autoimmun Rev. 2010;9:540-6.
Kent PD, Michet CJ, Luthra HS. Relapsing polychondritis. Curr Opin Rheumatol. 2004;16:56-61.
Edrees A. Relapsing polychondritis: a description of a case and review aticle; Rheumatol Int. 2011; 31:707-13.
Damiani JM, Levine HL. Relapsing polychondritis – a report of ten cases. Laryngoscope 1979;1:929–46.